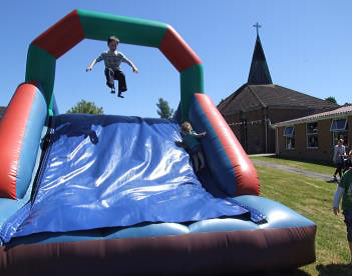 St. Dorothea's Parish Church, Gilnahirk is holding its annual Summer Fête on Saturday 15th June starting at 2.00pm.  It's always a great day out with lots of attractions on offer, plenty of stalls in the main hall and marquee and great live music playing all afternoon, to add to your enjoyment.  You won't go hungry either with a BBQ, Crepes, Afternoon Teas, Ice-cream and a chocolate fountain all available to tickle your taste-buds.
This year we have a special event for the children – a free to enter fancy dress competition, the theme of which is 'Pirates'. We are inviting any little girl pirates and little boy pirates, who would like to join us, to meet up in the church porch at 2.30pm. Once the children are all assembled, our very own Captain Dave will lead a parade around the church grounds before choosing the best dressed pirate and presenting the prize.  Every child that enters will get a little treat too so no one will feel left out.
There will be lots more for the children to do including the Belfast Playbus, a craft corner for 'make and take crafts', the bouncy castle and loads of games.  Captain Dave will also be about with his treasure map.  He will be offering everyone a chance to win a part of his hidden treasure.  Whoever marks their X on the map closest to the spot where the treasure is buried wins the prize.
The fun to enter Dog Show is back again too – always a popular event!  So, if you are the proud owner of a dog who fancies itself as a contender at Crufts, you don't have to go quite that far to indulge their fancy.  Bring your favourite pooch along, enter them into the Show and your little darling may end up winning the prize for 'Best in Show'! Judging begins at 3.00pm.
Don't forget to get some ballot tickets on the day.  There are lots of wonderful prizes to be won, with the fabulous star prize being an overnight B & B for 2 people at La Mon Hotel and Country Club, including dinner and use of the club facilities.
You will find us at the corner of the Gilnahirk Road and Lower Braniel Road.  Gates open at 2.00pm.  £2 for adults, 50p for children. For more information please call the Parish Office on 90704123